Single Tooth Dental Implant – Brampton, ON
The Perfect Solution for a Single Missing Tooth
Because your teeth rely on a system of shared tension to maintain their position, if even one is missing for a prolonged period of time, it can open the door for such issues as teeth shifting, tooth and gum decay and jawbone degeneration. At Salvaggio Dentistry, we help patients avoid these problems by placing single dental implants in Brampton. To learn more about the procedure, contact us today to schedule a visit with either Dr. Salvaggio, Dr. Virani or Dr. Khoury. Soon, you'll be able to enjoy a fully-restored and operable smile!
Single Tooth Replacement Options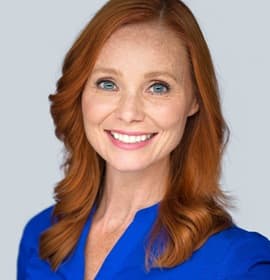 When it comes to replacing a single tooth, there are two paths available to patients. Are they equal, though? Let's compare the them to find out:
Fixed Bridge – This apparatus consists of a porcelain crown that is bonded to the adjacent teeth. For this to be accomplished, though, the surrounding teeth must first be prepared, which requires a thin layer of enamel to be removed so that a crown can be added to each tooth. The final result will be an above-gum replacement.
Dental Implant – Instead of relying on the surrounding structures for support, we'll insert a dental implant into your underlying jawbone, which will fuse with the same over a period of three to four months to create a sturdy and lasting foundation. After you've healed sufficiently, we'll invite you back to place an abutment, which acts as an anchor that allows us to add a final restoration that will leave you with a functional and appealing smile.
The Benefits of an Implant-Supported Single Tooth Replacement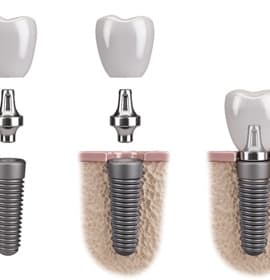 Dental implant placement provides more than just a restored tooth. What is equally important is the way it replaces the entire tooth structure. By being inserted beneath the gum line, here are some of the benefits it offers:
With proper care, a dental implant can last 30 years or more.
A dental implant creates a realistic and natural-looking smile.
Dental implant insertion helps to prevent a gum injury by filling the voided space.
By being completely self-sufficient, the dental implant preserves the surrounding teeth.
Dental implant insertion replaces the missing tension of the tooth root, which triggers new bone growth.
With your missing tooth replaced by a dental implant, you'll regain up to 75% of your original chewing capacity.
Contact Salvaggio Dentistry Today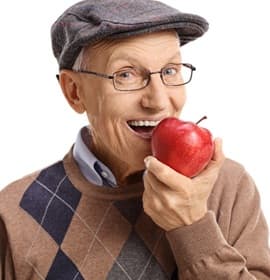 Don't postpone your joy by waiting to replace your missing tooth. Instead, take the proactive route, and contact us today at Salvaggio Dentistry to request a visit with your dentist in Brampton. We'll carefully assess your current situation and tailor-make a plan to leave you healthier, happier and more confident!