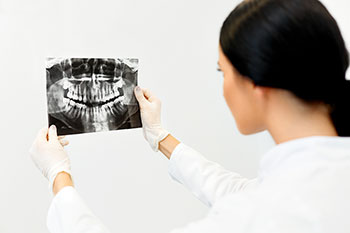 Your dentist recommends you take updated dental x-rays periodically, but do you really know what they are and how they are used to diagnose problems with your teeth and mouth? Dental x-rays are an imperative diagnostic tool to help promote and maintain good oral health. Routine (as recommended by your dentist) x-rays can help keep your teeth and bones healthy, save you money and maintain your oral health over time. 
Conditions X-rays can detect:
– Smaller cavities in areas not accessible to visual inspection, such as between teeth, cavities underneath existing fillings
– Detect the level of the bone surrounding each tooth assess for any loss of bone support 
– Detect any infections or abscesses at the roots of teeth
– Check for any cysts or abnormalities forming in the bone or jaw structure 
– Assist in the implementation of braces, implants, dental crowns/ bridges and even dentures 
– Check the development and positioning of adult teeth underneath baby teeth in children 
– Check the development and positioning of wisdom teeth, and assess the need for extraction 
Types of Dental X-rays 
Bitewing X-rays – These are typical dental x-rays that are used to detect cavities. These x-rays are taken on the back teeth and show the crowns and half the roots of both the upper and lower teeth. These x-rays will also be used to detect the health of current restorations and dental work and assess the level of the bone around each back tooth. Depending on how many back teeth are present, 2 or 4 x-rays will be taken. The frequency recommended for bitewing x-rays is on a patient-to-patient basis, yearly for patients who are more cavity-prone, and less frequently for patients who are not cavity prone. 
Periapical X-Rays – This type of x-ray is a more localized picture of a single tooth. It is taken to show an entire tooth, from crown to end of the root. This type of x-ray is likely taken when there are signs or symptoms of an underlying problem. It can show cavities, cracks, infections and gum disease. 
Panoramic X-Rays – Panoramic x-ray shows all the teeth, jaw bone, jaw joints and surrounding oral structures. It is the best x-ray for a general overview of the mouth. Panoramic x-rays detect bone levels, assess the wisdom teeth and prepare for dental braces. They can also be useful in detecting tooth or jaw infections and even issues with the jaw joint. 
If you have any questions about dental x-rays and why they are recommended, we encourage you to contact us today to schedule an appointment.