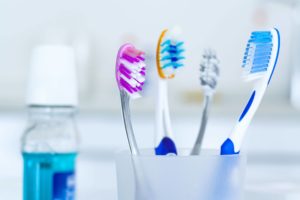 Toothbrush selection can be a quick and easy decision for some or result in a time-consuming process. Have you ever stared at a store display of toothbrushes or picked up every type of toothbrush and still didn't know which one to choose? This guide will help you make the best decision for your needs.
Bristle Type
When selecting a toothbrush, some people choose the hardest bristled one because they associate it with better cleaning experience. When the correct brushing technique is used, soft bristles will leave your teeth adequately cleaned. You should never use hard or medium bristles under any circumstance.
Using a hard or medium toothbrush for an extended period will result in damage to your teeth and gums. Prolonged use of hard and medium bristles can cause gum recession and tooth abrasion.
Example of Gum Recession – shown as gingival recession.
Brush Head Type
Rectangular shaped brush heads
This type of brush head is most commonly sold and has long rows of bristles. These work great when brushing the front of the teeth. However, they may be harder to maneuver when cleaning the back of the teeth or brushing the molar teeth in the back of the mouth. This type of brush head is available for both manual and electric toothbrushes. Brushing your teeth with long brush heads allows you to clean more than one tooth at a time.
Round brush heads
This type of brush head is excellent for brushing both the front and back of the tooth. As well, they work great when cleaning the hard to reach molar teeth in the back of the mouth. These brush heads are most commonly found on electric toothbrushes. These brush heads work best when cleaning one tooth at a time. As well, they work great for kids with smaller teeth.
Hybrid brush heads
These brush heads feature a rounded area at the top of the toothbrush, followed by straight rows of bristles.
Orthodontic brush heads
These are used for patients who wear traditional metal braces. The brush heads are rounded and have a dedicated area in the middle of the brush head to clean the metal brackets.
Manual or Electric Powered?
One question that many patients ask is whether they should use a manual or electric toothbrush. Those who currently use a manual toothbrush may wonder if switching to electric will improve their oral health. Research shows that manual and electric toothbrushes are both effective when the correct technique is used.
One consideration for the use of an electric brush is for those who have issues with dexterity. If you have arthritis or any condition that makes it difficult to hold or grasp things correctly, using an electric toothbrush helps to provide you with a better cleaning experience. Most electric toothbrushes have a thicker handle or base which helps those who have a hard time gripping or holding a thinner toothbrush.
There are other factors that could influence your decision, such as bristle layout and bristle lengths, but choosing soft bristles is a must. Remember to change your toothbrush when the bristles become splayed, the colours fade, or after you have recovered from a cold or the flu. Follow these tips the next time you need to replace your toothbrush, and you can narrow your choices quickly.
About Dr. Joseph Salvaggio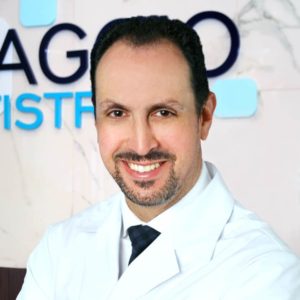 Located in Brampton, Ontario Dr. Joseph Salvaggio has been practicing general, cosmetic, and implant dentistry for over 20 years. He enjoys interacting with his patients and helping to restore their oral health for better overall health as well. Meeting new patients, interacting and educating them is one of Dr. Salvaggio's biggest joys. We encourage you to read our reviews or call us with any dental questions you have. We look forward to speaking with you and meeting you soon.