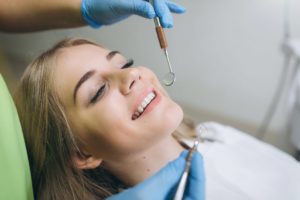 A complete oral exam is also known as a COE. A comprehensive oral exam is another term that is used interchangeably. A COE is different than a dental exam regarding its length and what is involved. A complete oral exam is necessary every few years, or if it is over three years since your last dental visit. During your complete oral exam, your dental professional checks the following things.
Periodontal Pockets
In health, a small space exists between the outer surface of the tooth and inside of the gums. The normal depth for this space is between 1 mm to 3 mm. Any measurement that is more than 3 mm is called a pocket or periodontal pocket. It is important to document pocket locations because these areas easily trap more bacteria under the gums. As well, flossing is only effective for shallow depths under the gums. Deep periodontal pockets cannot be cleaned with flossing and brushing alone. These areas are closely monitored by your dental professional to ensure that the pocket depths do not increase.
Dental X-Rays
While some dental assessment is done without dental x-rays, they are an invaluable tool that is needed. Dental x-rays allow your dentist or dental hygienist to see what is happening under your gums. Often, dental issues progress rapidly when the problem is under the gums. Without dental x-rays, your dental professional is only aware of issues that happen above the gumline. One example is the use of x-rays to see which wisdom tooth is coming in. As well, they are used to check for impacted wisdom teeth. X-rays are needed to diagnose and confirm most treatments accurately.
Bleeding Points
During taking measurements for periodontal pockets, there may be bleeding in certain areas. Your dental professional records any areas of bleeding during the complete oral exam. These results are used to compare with future exam results to monitor oral health.
Gum Recession
When the gum levels lower or shrink away from the teeth, this is referred to as gum recession. As the gums recede, more of the tooth becomes exposed to acid wear. Acid wears thins out the tooth's enamel. Thin enamel causes the teeth to become sensitive when eating certain foods. As the enamel thins, the tooth takes on a darker appearance due to the darker dentin under the tooth.
Enamel Wear
Your dental professional will also record areas of enamel wear in the mouth. Enamel wear is due to a few factors. Aggressive brushing is a common cause. However, biting or chewing on objects, consumption of acidic foods, excessive grinding and clenching are all factors.
Dental Restorations
Existing dental fillings or restorations will also be recorded on your chart. These fillings will also be examined to ensure they are stable and sound.
Dental Decay
Your dental professional looks for areas of active decay or cavities. This information will be used to create a personalized treatment plan for your mouth.
Oral Cancer Screening
Signs of oral cancer, suspicious growths and other irregularities in the mouth are checked. A special light is sometimes used during this process.
Jaw Function
Your TMJ or temporal mandibular joint is also assessed to look for irregularities which may impact normal function. Improper jaw function has also been linked to jaw pain and headaches.
Remember to let your dentist know of any changes to your health since your last dental visit. As well, be sure to mention any medications you are taking and the dosages of each drug. Contact us to schedule your complete oral exam today.
About Dr. Joseph Salvaggio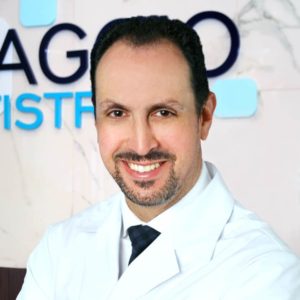 Located in Brampton, Ontario Dr. Joseph Salvaggio has been practicing general, cosmetic, and implant dentistry for over 20 years. He enjoys interacting with his patients and helping to restore their oral health for better overall health as well. Meeting new patients, interacting and educating them is one of Dr. Salvaggio's biggest joys. We encourage you to read our reviews or call us with any dental questions you have. We look forward to speaking with you and meeting you soon.