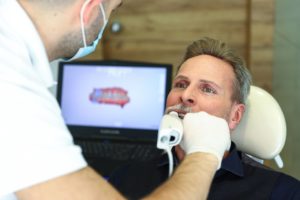 Digital scanning technology improves patient comfort and reduces appointment times when it comes to making an impression of the mouth. Salvaggio Dentistry uses the
Benefits Of Digital Scanning
Dental impressions create a model of the mouth to plan dental treatment. Creation of dental appliances depends on use of this model. Powdered dental impression material is used when taking a traditional impression of the mouth. The powder is mixed with water to create a flowable material. The material is loaded into mouth trays and placed in the patient's mouth. The mouth tray is left in the mouth until the material hardens, then removed.
Increased Comfort: With digital scanning does not use powders or mouth trays. Removal of powders and mouth trays results in increased patient comfort. Additionally, patients with a sensitive gag reflex benefit greatly from digital scanning.
Faster Results: Traditional dental models that have to be physically shipped to a dental laboratory. However, digital scanning allows us to email a digital representation of the mouth to the dental lab the right away. This results in quicker times for dental appliances such as dentures, nightguards, dental crowns, dental veneers, etc.
Quicker Appointments: Powdered impressions require mixing of new material and use of another mouth tray for a retake. However, digital scanning allows for quick adjustments during the procedure. Scanning takes under five minutes to complete in most cases.
Saved Scans: Saved digital scans mean that a rescan will not be necessary for a lost dental appliance. A rescan is only needed if a significant amount of time has passed because the teeth may have shifted since the first scan.
What Is The Process Like?
A digital impression only requires the use of a scanning wand. The wand passes above, in front, and behind your teeth to create a 3D image of your mouth.
Considering getting a new and properly fitted denture, a dental crown, or veneers? Digital impression technology gives you a new smile quicker than ever. Call us for more information or to schedule your appointment now: 289-569-0722
About Dr. Joseph Salvaggio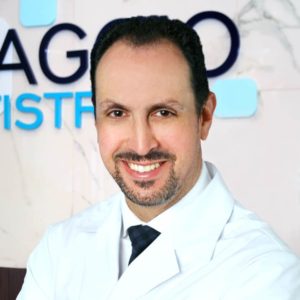 Located in Brampton, Ontario Dr. Joseph Salvaggio has been practicing general, cosmetic, and implant dentistry for over 20 years. He enjoys interacting with his patients and helping to restore their oral health for better overall health as well. Meeting new patients, interacting and educating them is one of Dr. Salvaggio's biggest joys. We encourage you to read our reviews or call us with any dental questions you have. We look forward to speaking with you and meeting you soon.