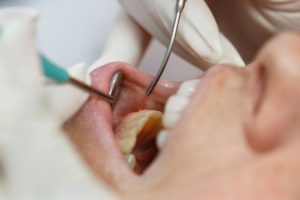 A gingivectomy is a form of dental surgery used to treat gum issues and reduce excess gum tissue. This is a different procedure from a gingivoplasty. A gingivoplasty is used to reshape or contour the gum tissue to correct gum deformities.
To Treat Periodontal Disease
In health, the gum tissue in the mouth is firm and tightly attached to the tooth surface. This firm attachment helps to keep plaque and leftover food debris from getting under the gums. However, when gum disease is present, the gums become swollen, red, tender and loosen around the tooth surface. When the gum tissue is too loose, a periodontal pocket is formed. A periodontal pocket is a deep area that develops between the gum tissue and the outer surface of the tooth. This deep area allows food and plaque to become stuck or trapped easily.
A gingivectomy is performed to reduce the amount of loose or unhealthy gum tissue that surrounds the tooth. By removing diseased gum tissue, the periodontal pocket is no longer present because the unhealthy gum tissue no longer creates a deep area for bacteria to dwell. This procedure is best performed before periodontitis progresses to the point where it destroys not only gum tissue but also bone in the mouth.
To Improve Smile Esthetics
Patients who are unhappy with the amount of gum tissue showing when they smile are also candidates for a gingivectomy. When a significant amount of gum tissue is visible during a smile, it is sometimes referred to as a "gummy" smile. The procedure is used to reduce the amount of gum tissue around teeth to give teeth an elongated look. Some smiles have a high gum to tooth ratio, and a gingivectomy is used to change the ratio.
What Should You Expect?
Once the treatment is completed, maintaining a healthy smile and mouth is easy when regular oral care is performed. Also, regular dental visits are necessary to monitor oral health.
Healing takes between one to two weeks generally, but most patients can resume their daily activities within a few hours of treatment. Small adjustments are needed to diet during the healing period. A diet of soft foods that are not too hot or cold is recommended during healing.
Contact us with any questions, or to schedule your free consultation today.
About Dr. Joseph Salvaggio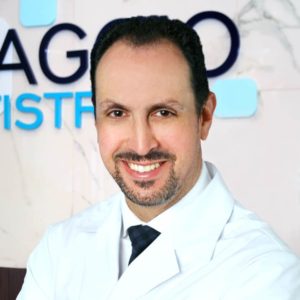 Located in Brampton, Ontario Dr. Joseph Salvaggio has been practicing general, cosmetic, and implant dentistry for over 20 years. He enjoys interacting with his patients and helping to restore their oral health for better overall health as well. Meeting new patients, interacting and educating them is one of Dr. Salvaggio's biggest joys. We encourage you to read our reviews or call us with any dental questions you have. We look forward to speaking with you and meeting you soon.