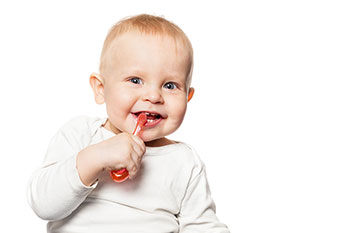 Did you know that baby teeth are essential for many reasons, including health, function and aesthetics? It is important to help keep your child's baby teeth healthy and cavity-free. Baby teeth lost premature, either to cavities, infection or trauma, can lead to problems with the positioning and health of the future adult teeth.
Importance of Baby Teeth
– Help with talking, chewing, smiling, speaking and confidence
– Are used by the future adult teeth as placeholders, meaning the adult teeth use the roots of the baby teeth to guide them into the correct position
– Prevent shifting of adjacent and opposing teeth, meaning if a baby tooth is lost premature, the surrounding teeth can shift and affect the bite
– Healthy, cavity-free baby teeth prevent infection and unnecessary pain for your child
How to Prevent Cavities in Baby Teeth
– Start brushing your baby's teeth as soon as they erupt (usually between 6-10 months, the lower two front teeth will erupt)
– Always clean your baby's teeth/mouth after nursing and after bottles of milk
– Never give your baby anything in a bottle aside from milk or water
– Never dip your baby's pacifier in anything sweet
– Brush your baby/child's teeth at least twice a day
– Start flossing around age 4, once a day
– Help your child with brushing and flossing until around the age of 8
– Reduce intake of gummy, sticky or chewy sugary foods such as candies, granola bars and dried fruit
– Have your child use a fluoride toothpaste beginning around the age of 3
– Take your child for routine dental visits for their check-ups and cleanings
– Avoid using gummy vitamins. They have lots of sugar and get stuck in their teeth. Try finding sugar free daily vitamins or use the crunchy kind
– If your child is cavity prone, have them use xylitol products daily to help reduce the risk of future cavities
– Raw apples, carrots and celery are great snacks to help cleanse teeth and reduce cavity risk
If your child is due for their check-up and cleaning, or if you have any questions about how to keep their teeth healthy and cavity-free, we encourage you to contact us today to schedule an appointment.