What is Clenching and Grinding?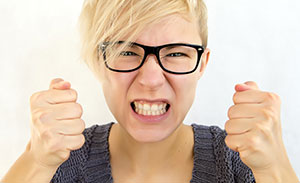 These are typically both involuntary functions of the jaw that consist of the jaws biting together with force (clenching) and possibly moving back and forth (grinding.) Both clenching and grinding often occur at night but may occur during the day during stressful periods. If done during the day, it is crucial to notice when these habits are happening and try to stop them. If they occur at night, a nightguard may be useful to prevent damage to the teeth.
Signs & Symptoms of Clenching and Grinding
Headache or neck ache (particularly in the morning time)
Sore muscles in the neck, head and cheeks 
Sore jaw joint 
Soreness on opening and closing of the jaw 
Clicking of the jaw 
Wear spots on the biting surfaces of the teeth 
Flattening of the teeth which may lead to changes to the shape of the face
Tooth sensitivity 
Tooth chips/ fractures or breaks 
Gum recession 
What is a Night Guard?
A night guard is used to protect the teeth from tooth wear and chipping that may occur from clenching and grinding. A night guard works by adding a layer of cushion between the teeth to prevent tooth on tooth trauma. The night guard also helps to disperse the pressure through the jaw, so it doesn't just affect a couple of teeth. Therefore, night guards can help prevent headaches, sore and clicking jaw, wear, chips, sensitivity and gum recession.
How Are Night Guards Made?
Impressions are taken of your teeth and sent to a lab to fabricate a guard specifically for your teeth. The guard takes about a week to be made and will be sent back to your dental office. The guard will be tried in and adjusted as needed. A nightguard should fit snug on your teeth without being uncomfortable. They can be made to wear on either your top or bottom teeth. They take some getting used to, so make sure to give it a few weeks of time.
If you believe you may benefit from a nightguard, or have any questions about clenching and grinding, we encourage you to contact us today to schedule an appointment.