Helps To Prevent Cavities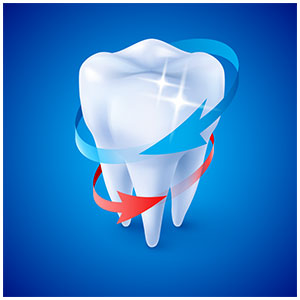 Fluoride works by strengthening the enamel of your teeth (which is the outer layer of your teeth) to prevent the penetration of oral bacteria and acids. Fluoride is a naturally occurring mineral in the earth and is in some areas naturally occurring in water. In some municipalities, fluoride is added to the water in around 0.7 ppm (parts per million) to help reduce cavities in the population. Fluoride can also be administered topically in the form of toothpaste, mouthwash and topical applications at your dental office. Fluoride administered in office may consist of mouth rinse, fluoride gel, varnish or foam.
Halt Existing Cavities
Fluoride can also stop the growth of existing cavities. Often, cavities in-between the teeth with be caught in their initial phase with check-up x-rays. The initial phase of a cavity between the teeth is when it remains in the enamel and hasn't travelled into the underlying structure called the dentin. These small cavities can be left untreated with regular flossing, the use of fluoride (at home and in-office treatments) and periodic x-rays to check for changes.
Who Can Benefit from Fluoride?
– Patients who have had previous restorative work and a history of cavities
– Patients who have deep grooves and pits in their teeth
– Children whose teeth are still developing
– Patients who have demineralization (meaning the start of cavities)
– Patients who have a dry mouth which can be caused by medical conditions, medications, past radiation and lifestyle choices
– Patients who have hypoplastic enamel (meaning enamel that isn't formed properly during the eruption)
Helpful Fluoride Tips
– After using fluoride toothpaste or mouthwash, don't eat, drink or rinse your mouth for 30 minutes so the fluoride can work properly
– Use fluoride at least twice a day in either toothpaste or mouthwash
– Make sure to start your child on a fluoride toothpaste around the age of 3 by using a tiny amount, about the size of the tip of a pen, on their toothbrush
If you have any questions about the benefit of fluoride, we encourage you to contact us today to schedule an appointment.