Aesthetics play an essential role in how a person is perceived. As a result, having a great smile can significantly change someone's confidence.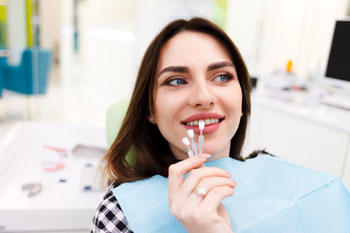 Dental veneers are an excellent cosmetic dental option for people looking to improve their smile and appearance. Two typical dental veneer options are porcelain veneers and composite veneers. There are several details to consider when choosing between porcelain or composite veneers, such as their aesthetic properties, longevity, and overall cost.
Which Veneer Option Looks Best?
Cosmetic dentistry can achieve incredible smile transformations with both materials.
Composite veneers have many shades that dentists can use to match the patient's natural teeth or improve their colour. However, porcelain veneers have better aesthetic properties than composite.
Porcelain veneers reflect light in almost the same way the natural teeth do. As a result, they look pretty similar to natural teeth. Additionally, porcelain veneers do not stain over time due to their finish. 
How long do veneers last?
Both materials can last for years in good condition. However, porcelain veneers tend to last 10-15 years approximately. Meanwhile, composite veneers last between 5-7 years. Having excellent oral hygiene habits is essential to the longevity of your dental veneers.
Composite veneers are more prone to chipping and deteriorating, especially when the patient doesn't have good oral care. Nevertheless, there are cases where they can last up to 10 to 12 years in good condition.
On the contrary, porcelain veneers are more resistant. However, they can't be repaired like composite veneers. If they fracture, they would need to be replaced entirely.
Also, the longevity of composite veneers might be affected by colour issues. Since composite veneers can stain over time when exposed to foods that stain teeth. As a result, they might need to be replaced even if they still maintain optimal integrity to match the rest of your natural teeth. 
How much do dental veneers cost?
Porcelain veneers are more expensive than composite veneers. This is because the dentist can complete a whole set of composite veneers in one appointment. In comparison, porcelain veneers take at least two appointments. However, when considering how long they last, porcelain veneers might be the cheaper choice over time. 
Can dental veneers be removed?
A dentist can remove dental veneers without any problems. However, the dentist must usually replace them immediately because the natural teeth must be prepared to bond the dental veneers. 
Dental veneers are an excellent option for people looking to improve their smile. Both porcelain veneers and composite veneers offer various advantages in different areas. 
It is essential to understand that every case is different, and several aspects must be considered before choosing an option. Contact us today to learn how dental veneers and cosmetic dentistry can greatly enhance your smile.