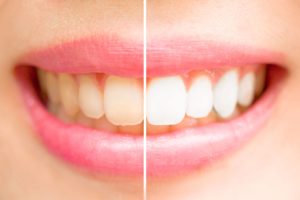 According to the American Academy of Cosmetic Dentistry, an attractive smile has the most significant impact when it comes to first impressions in both our social and work lives. Almost half of the people surveyed said that a smile was more memorable than the first thing spoken by the other person. With the rise of digital profiles, social media and photos, a great smile goes a long way, and teeth bleaching can help it go even further.
Professional In-Office & Take-Home Whitening
Teeth bleaching or teeth whitening, as it is commonly known can be divided into two major areas, professional in-office whitening and take-home whitening. Both options have their advantages and disadvantages. There are other options available such as whitening toothpaste and whitening strips.
Professional In-Office Teeth Bleaching
Professional in-office whitening procedures are best for situations when a result is required as soon as possible. In-office whitening treatments use a higher strength of whitening agents than you would find in a take-home treatment. Due to the higher concentration, they achieve a whitening result in less time. These treatments must be done in the office by a dental professional due to their strength. Some in-office whitening options offer a custom-made whitening tray for best results while other treatments, no not require whitening trays. Some people may notice increased tooth sensitivity with professional in-office whitening, due to the higher strength of the whitening materials.
Laser or Light Activated Whitening:

These types of whitening materials are activated either by laser lights or other types of lights. Often, a whitening agent is carefully applied to the teeth first, then a unique light or laser is used to activate the whitening agent. Some treatments may use a custom-made tray. The amount of stain that is present will determine the number of treatment applications that are necessary.
In some cases, the desired result can be achieved in one dental visit. People with high levels of stain may require more than one dental visit to get their desired result. A shade guide, pictured above, is used to determine the current shade of your teeth and to measure when the desired shade is reached. Each appointment may last 30 minutes to 90 minutes, depending on the treatment used.
Professional In-Office Whitening Trays:
This treatment is similar to the take-home whitening trays, but the trays are usually custom made to fit your mouth. Custom fitted trays help the whitening agent to be applied more accurately to the teeth. The strength of the whitening agent is much higher as well than the take-home option. Your dentist will typically take an impression of your teeth and create custom fitted whitening trays. Once the trays are ready, you will need to revisit the office for the actual in-office whitening treatment.
Take-Home Teeth Bleaching
Take-home whitening trays:
Take-home whitening or over the counter whitening trays are lower in strength and come with generic whitening trays. While some people do get good results with take-home trays, the fit is not as accurate, and many more applications may be needed to get the desired results. People with straighter teeth will get the best results with these trays because they will be able to make better contact with the trays.
Over-The-Counter Teeth Bleaching
Over-the-counter teeth bleaching strips:
These are available in a low strength whitening agent so that it is safe for home use. These strips are generic strips so the results will vary from person to person. Patients with straight teeth will most likely have better results since the whitening strips can make better contact with the teeth. Teeth that are not in ideal alignment may not get full contact with the whitening strip, which will affect the results.
Whitening Toothpaste:
There are many types of whitening toothpaste available, and while some may be effective at removing the stain, consideration must be taken to make sure that they do not damage your tooth's enamel. Some whitening toothpaste has varying sizes of particles that clean the tooth's surface stain through abrasion. Some whitening toothpaste may be too abrasive and can damage your tooth's enamel if they are used for long periods of time.
Alternative Whitening Options
Some people may use alternative options to whiten their teeth, such as using charcoal power or using lemon solutions or mixtures. While some of these options may be effective, the disadvantages may outweigh the advantages. Lemon is highly acidic and will erode your tooth's enamel over time. It is essential to understand how specific cleaning agents work before you use them, to ensure that they will not harm your teeth.
About Dr. Joseph Salvaggio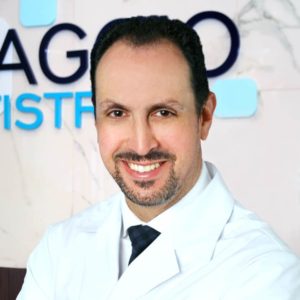 Located in Brampton, Ontario Dr. Joseph Salvaggio has been practicing general, cosmetic, and implant dentistry for over 20 years. He enjoys interacting with his patients and helping to restore their oral health for better overall health as well. Meeting new patients, interacting and educating them is one of Dr. Salvaggio's biggest joys. We encourage you to read our reviews or call us with any dental questions you have. We look forward to speaking with you and meeting you soon.