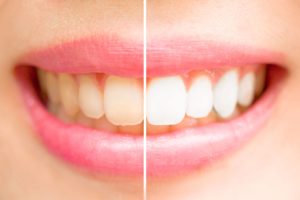 When it comes to whitening your teeth, numerous teeth whitening options are available for every type of smile. Learn about teeth whitening options to decide which is best for you. There are two main types of teeth whitening options, over-the-counter and professional whitening.
Teeth Whitening Strips
Teeth whitening strips are a convenient way to whiten your teeth at home. Whitening strips are available over-the-counter and have a lower concentration as a result. Whitening strips are applied directly to the front surface of the teeth where they adhere. They require multiple applications to achieve the desired whitening result due to their low concentration. Because whitening strips are a universal fit, they do not whiten all of the back teeth in every patient. They may also miss the areas in between teeth or ineffectively whiten these areas due to their design.
Whitening Toothpaste
Walk down the hygiene aisle of almost any store, and you will notice a large selection of whitening toothpaste. Most whitening toothpastes rely on a combination of whitening agents and abrasives to remove surface stains. It is important to remember that the abrasives can damage the tooth's enamel if the abrasive is too hard. Significant damage can occur if a whitening toothpaste with hard abrasives is used long term. It is important to use toothpaste that is approved by the Canadian Dental Association.
Custom-Made Whitening Trays
While you may be able to purchase universal fit whitening trays, they do not offer an accurate fit. Only your dental office can make a custom-made whitening tray that is designed to properly fit your mouth. A properly fitted whitening tray will allow the whitening material to make contact with the entire surface of the tooth. A custom-made whitening tray will extend to the back teeth as well, unlike most universal fit whitening strips. Custom-made whitening trays are usually used in the comfort of your home. Your dentist will provide you with instructions on proper usage of these professional products.
The bleaching gel that is supplied by your dentist for use in the whitening trays is high in strength. Unlike the over-the-counter brands, the whitening products from your dental office are available in higher concentrations. A higher concentration means that most patients see noticeable whitening results in as little as one visit. Depending on the amount of stain present or the shade desired, more than one professional application may be necessary.
In-Office Teeth Whitening
In-Office teeth whitening can be performed with custom-made trays or with light activated devices. While custom-made trays are usually used at home, your dentist may use trays in the office where it can be monitored.
The most popular type of in-office whitening is done with light activated devices. One popular type of light activated whitening is Zoom Whitening. Zoom Whitening uses a whitening tray, whitening material and a special light to activate the whitening material. Many patients report a significant improvement in the shade of their teeth while having just one treatment.
Whitening Considerations
If you are deciding between various teeth whitening options, talk to your dentist. They will be able to help you determine the current shade of your teeth, and suggest treatment based on your desired shade. Your dental professional will instruct you on best practices before you begin whitening and after you whiten your teeth.
Call us to schedule your free consultation today: (289) 569-0722
About Dr. Joseph Salvaggio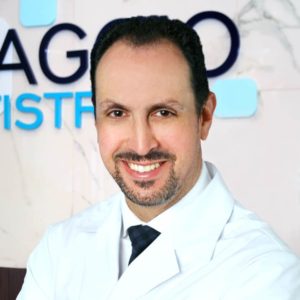 Located in Brampton, Ontario Dr. Joseph Salvaggio has been practicing general, cosmetic, and implant dentistry for over 20 years. He enjoys interacting with his patients and helping to restore their oral health for better overall health as well. Meeting new patients, interacting and educating them is one of Dr. Salvaggio's biggest joys. We encourage you to read our reviews or call us with any dental questions you have. We look forward to speaking with you and meeting you soon.