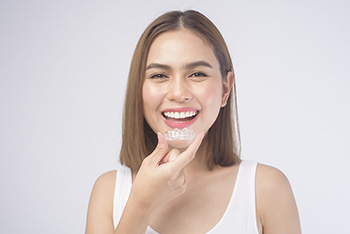 There are two different kinds of staining that affect teeth. Extrinsic, or external staining, is staining that attaches to the surface of the teeth and can be manually removed. This type of staining is removed during routine dental cleanings. Intrinsic or internal staining is staining that affects the inner layers of the teeth and cannot be manually removed during a regular dental cleaning. Internal staining requires the help of a bleaching agent to access the inner layers of the tooth structure.
Toothpaste/Mouthwash
Many products can help prevent/reduce staining. These products will either target internal or external staining. Most whitening toothpaste will contain abrasive particles that help scrub off exterior staining, while some will contain a small degree of a whitening ingredient to help target internal staining. There are also whitening mouthwashes on the market that help to target internal staining. The effectiveness of these products varies, but the cost is relatively low.
(more…)