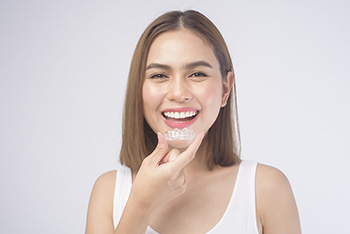 There are two different kinds of staining that affect teeth. Extrinsic, or external staining, is staining that attaches to the surface of the teeth and can be manually removed. This type of staining is removed during routine dental cleanings. Intrinsic or internal staining is staining that affects the inner layers of the teeth and cannot be manually removed during a regular dental cleaning. Internal staining requires the help of a bleaching agent to access the inner layers of the tooth structure.
Toothpaste/Mouthwash
Many products can help prevent/reduce staining. These products will either target internal or external staining. Most whitening toothpaste will contain abrasive particles that help scrub off exterior staining, while some will contain a small degree of a whitening ingredient to help target internal staining. There are also whitening mouthwashes on the market that help to target internal staining. The effectiveness of these products varies, but the cost is relatively low.
Over the Counter White Strips
Several brands offer "whitening strips," which are coverings that contain a whitening agent. They are placed over the teeth for a recommended amount of time to help improve the internal shade. The downside to white strips is that they are not designed specifically for each individual mouth and may miss certain nooks and crannies. Make sure to follow the instructions/label.
Professionally Made Whitening Trays
In a dental office, trays can be fabricated to fit precisely to your teeth to help achieve an even result. Impressions will be taken of your teeth, so the trays have a perfect fit. You will be sent home with a whitening agent and instructions for use.
In-Office Whitening
In-office whitening is considered the best and most effective option for tooth whitening. The entire procedure is completed in one visit. A whitening agent will be applied directly to the teeth surfaces, and depending on which kind of whitening agent is used, a UV light may be used to speed up the effectiveness of the whitening. It is recommended to use a sensitivity toothpaste for a couple weeks before and after the procedure to prevent tooth sensitivity.
If you are interested in teeth whitening options or have any questions about what option is best for you, we encourage you to contact us today to schedule an appointment.