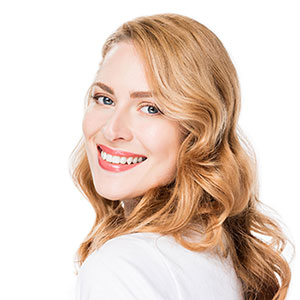 There are several different options for tooth whitening that you should consider before based on your needs and expected results. It is a good idea to first learn about types of teeth stains. There are two types of staining, internal staining and external staining. External staining is staining from darker pigmented foods and drinks (usually coffee, tea, red wine, blueberries, etc.). External stains also come from smoking, which causes an accumulation on the outer surface of the teeth. Fortunately, these stains can be removed during your dental hygiene cleanings. Internal staining are stains that have travelled to the inner layer of the teeth and changed the shade of the teeth. Thankfully, there are solutions for both of these types of staining.
Whitening Toothpaste
Whitening toothpaste is usually geared toward removing external staining. The particles are larger and more abrasive, scrubbing off staining during brushing. Also, some forms of whitening toothpaste have a whitening agent in them to reduce internal staining. Make sure you read the ingredients on the tube and follow the intended use.
Store Bought Whitening Strips
These whitening strips have a whitening agent in them, such as hydrogen peroxide. They are designed to stick to your teeth for around 30 minutes each day for about a week. The limitation with this type of whitening is that they are not custom-fitted to your teeth, so there may be areas that do not make adequate contact with the whitening agent. The whitening agent is also less concentrated than in professional dental office whitening products.
Take-Home Whitening Trays
The first of two options your dental office can offer you is take-home whitening trays. An impression is taken of your teeth and a whitening tray is fabricated specifically for your mouth. You will also receive a whitening gel that you will put into the trays and wear each day. It is important to follow the instructions provided.
In-Office Whitening
This is the most effective type of whitening for patients looking for same-day treatment. The entire whitening procedure will be completed in the dental office for between 1½ to 2 hours. The whitening agent will be applied, and a UV light will be used to activate the whitening gel. It is recommended that you use toothpaste designed for sensitive teeth for a couple of weeks before and after to reduce the risk of sensitivity.
If you'd like to whiten your teeth or learn more about teeth whitening, we encourage you to contact us today to schedule an appointment.