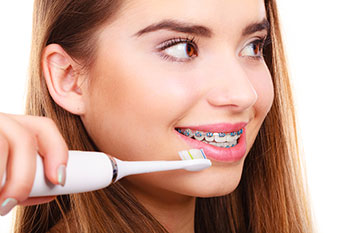 It's no secret, cleaning your teeth with dental braces is a lot more work. That being said, it is a very important time to make sure you are doing the best job you can because your teeth and gums are more susceptible to cavities and gum inflammation with all that hardware on. Below is a list of what you should be doing at home to keep your teeth and gums as healthy as possible while wearing braces.
Electric Tooth Brushing
It is important to use an electric toothbrush during orthodontics. An electric toothbrush can access more tooth and bracket surfaces than a manual toothbrush, and can perform more brush strokes in 2 minutes of brushing than a manual toothbrush can. Electric toothbrushes come in either a circular or oval head shape and use an oscillating or a sweeping motion. For added benefit, you can purchase an electric toothbrush with a timer so you know you've brushed the full 2 minutes.
Water Flossing
This is a great supplemental aid and takes the difficulty out of flossing. A water flosser works by spraying a jet of water at the teeth and can access around the brackets and between the teeth better than manual floss (especially if you know you just won't use manual floss!) As a tip, you can even fill your water flosser with fluoride mouthwash instead of water to prevent cavities between teeth.
Daily Fluoride & Xylitol
Fluoride and xylitol work in different ways but both help to prevent dental cavities. A benefit of fluoride is strengthening the enamel of your teeth while xylitol works by reducing the number of cavity causing bacteria in your mouth. Make sure to use these products in your every day regimen as they can be found in toothpaste, mouthwash and even gum.
Eliminate the "Danger Foods"
The "danger foods" are the foods you shouldn't be eating while wearing braces. Foods that are very sticky, chewy, acidic and sugary are no go foods that can either cause damage to the brackets and bands or make you more susceptible to cavities. Gum, gummy candies, chewy/ sticky candies, corn on the cob and soda are all danger foods and should be avoided.
If you have any questions about keeping your teeth and gums healthy with braces, we encourage you to contact us today to schedule an appointment.