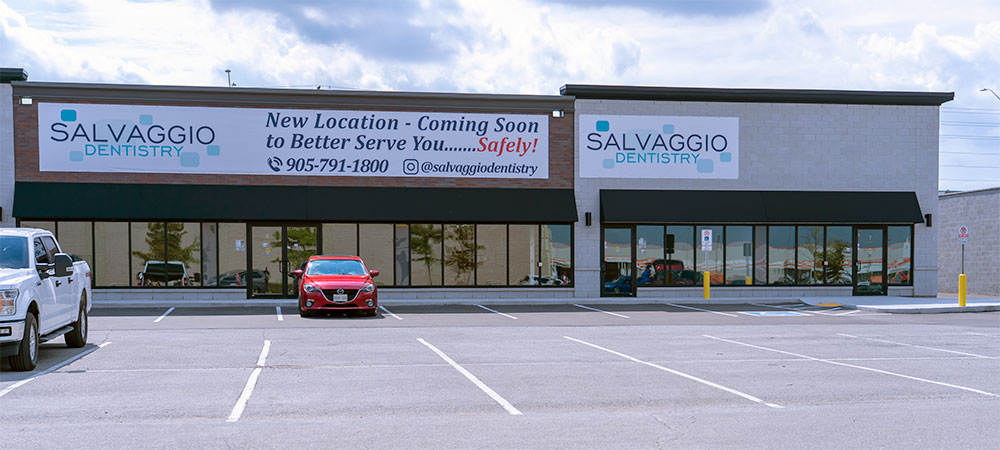 The Salvaggio Dentistry team is excited to announce that we will be moving to a new location in the same plaza! Our new location is located across from Giant Tiger. We expect to be fully operational in February 2022.
In our ongoing efforts to better serve you, moving to a new and larger location will provide many more benefits to our patients. Here is what you can expect in our new location.
COVID-19 Screening
There will be a dedicated screening and greeting area to better accommodate COVID-19 screening protocols.
COVID-19 Safety
The new building is outfitted with an HVAC system with built-in HEPA filtration, in addition to the individual air filtration units available in every operatory. These measures meet or exceed the current recommended COVID-19 safety protocols.
Larger Area & Location Enhancements
Modern, well-lit operatories designed to reduce anxiety
Water purification systems servicing all operatories
Larger kids area with custom tablets
Enhanced beverage station with more options and a freezer for kids ice cream
More dental operatories will reduce wait times and provide more efficient care
Larger facility will allow us to control the direction of traffic in and out of the practice
Newly designed reception area is arranged to reduce time checking in and checking out
Larger facility will allow us to serve more patients during our charity events (Our goal is to give away $100,000 in free dentistry per year)
A much-improved parking experience in a less congested portion of the plaza
We are incredibly excited to move our practice to a fresh, modern facility that will SERVE all our VALUED PATIENTS even more safely! Stay tuned for updates!