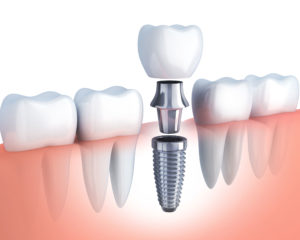 A missing tooth in the mouth does not just lead to an uneven smile. While most people readily replace a missing tooth to improve their smile or appearance, there are other important reasons to replace a lost tooth. If a tooth is missing due to injury or if it is naturally missing, it requires replacing. Even though many tooth replacement options exist, dental implants should be your first choice.
Benefits of Dental Implants
Preserve jawbone. One of the most beneficial features of a dental implant is the ability to preserve the bone in the mouth. An implant that properly fuses to the jawbone, stimulates the bone tissue through pressures applied by chewing and eating. Stimulation of bone gives the bone a reason to stay in the area of the implant. A dental bridge or denture, on the other hand, is not directly attached or affixed to the bone. As a result, bone loss occurs in the area of the missing tooth even if a dental bridge, partial denture or complete denture is present. Bone loss affects the look and shape of the face when significant bone loss occurs.
Improved smile and appearance. Dental implants feel, look and act like your natural teeth. They fill or close any gaps or spaces while maintaining a natural and seamless look.
Enhanced comfort. Unlike other tooth replacement options, dental implants are permanent and not removable. A permanent dental implant provides greater comfort when compared to other options such as removable dentures or partial dentures.
Eat any food. A complete denture is prone to loosening, rocking or sliding when eating certain foods. An unstable surface makes it hard to enjoy foods that are dense or require a lot of chewing. It also results in pain or discomfort while eating certain foods. Because the dental implant is placed in the jawbone,  it fuses to the jaw permanently and becomes stable just like your natural teeth.
Improved speech. Another benefit of an implant is an improvement when speaking. A correctly placed and fused to bone-dental implant does not move or shift when talking or eating. Dentures loosen over time due to shrinking jawbone which makes talking and eating difficult.
Increased confidence. Many patients report feeling more confident while smiling, interacting with others and taking photos. According to a survey by the ADA, 88% of respondents say smiling makes them feel good.
Other teeth are not affected. A dental bridge requires the removal of healthy tooth enamel from at least two teeth in fit the bridge. A dental implant, on the other hand, is placed without affecting the health or structure of nearby teeth. It looks and acts just like a natural tooth.
Better oral health. A dental implant functions like a natural tooth which makes flossing and brushing simple. A dental bridge requires special floss or other tools to properly access and clean. Many individuals do not properly clean their dental bridge which leads to gum disease in the area of the bridge. Untreated gum disease leads to bone loss that occurs under and around the bridge. Bone loss under the bridge allows food and bacteria to become stuck and hard to access or clean. Often, this means that a new bridge is needed to close the gap.
Long lasting and durable. While dentures and dental bridges may be less costly than dental implants, they will need to be replaced one or more times during your lifetime. Long-term, a dental bridge or dentures end up being far more costly than a dental implant because they require replacement. An implant will last a lifetime when properly maintained and monitored.
Important Considerations
When replacing a missing tooth, timing is important. The quicker you replace a missing tooth, the better your chances of avoiding negative changes in the mouth. Changes include shifting or drifting of teeth and bone loss in the affected area. Shifting or drifting teeth have the potential to make cleaning surfaces of the teeth more difficult. Bone loss that occurs in the area of the missing tooth make it harder to successfully place a dental implant. In cases of severe bone loss, bone grafting is necessary to build up enough bone for the dental implant.
Contact us right away to prevent further bone loss and to discuss tooth replacement options that suit your smile and budget. We offer free no-obligation consultations and we are happy to discuss a treatment plan individualized just for you!
About Dr. Joseph Salvaggio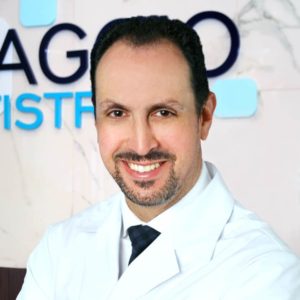 Located in Brampton, Ontario Dr. Joseph Salvaggio has been practicing general, cosmetic, and implant dentistry for over 20 years. He enjoys interacting with his patients and helping to restore their oral health for better overall health as well. Meeting new patients, interacting and educating them is one of Dr. Salvaggio's biggest joys. We encourage you to read our reviews or call us with any dental questions you have. We look forward to speaking with you and meeting you soon.