A gummy smile is referred to as excessive gingival display in dental terms. With most smiles, you can see all of the upper tooth structure or most of the tooth structure. However, with a gummy smile, there is less of the upper tooth structure showing due to an increased amount of gum tissue covering the teeth. While there are no established guidelines for what makes a smile gummy, more than three millimeters of gums showing when smiling is where most people classify a smile as being gummy. This condition is seen in women more than men, almost by double.
Causes Of A Gummy Smile
A high lip line is a common cause. This means that when you smile, your upper lip moves higher than usual and exposes the teeth and most of the gums.
Abnormal tooth eruption may cause excess gum tissue to develop around the erupted tooth. This results in a shortened tooth appearance.
Muscles that control the raising of the upper lip impact how much of the gums are shown.
Improper development of the jaw.
Enlarged gums, known as gingival hypertrophy.
Teeth that developed smaller in comparison to the gums due to genetics or excess wearing.
Dental Effects
While a gummy smile may not be aesthetically pleasing to some, there are usually no serious dental effects. Patients are still able to speak and eat properly. However, if the gummy smile is due a developmental issue of the jaw or due to abnormal tooth eruption, issues such as an improper bite may develop. Regardless, patients with a gummy may not like the way their smile looks and may limit themselves from smiling as often. Fortunately, there are common dental procedures to improve a gummy smile.
Gummy Smile Treatment
Treatment depends on the cause of the gummy smile. Common treatment types include:
Orthodontics is sometimes used to treat mild cases where the reason is due to the jaw and the positioning of the teeth.
Dental Veneers or dental crowns can be used to modify the shape of the tooth to improve the tooth-gum ratio.
A procedure to remove excess gum tissue called a gingivectomy may be performed to make more of the teeth visible.
A crown lengthening procedure may be done to remove gum and bone to make more of the teeth visible.
Lip surgery may also be performed along with orthodontic treatment if the cause is due to an overactive upper lip.
Laser dentistry that involves gum contouring is another increasingly popular procedure to remove excess gum tissue.
If you have a gummy smile or have been thinking about changing your smile, contact us for a complimentary consultation. Let us show you how cosmetic dentistry can give you a smile you want.
About Dr. Joseph Salvaggio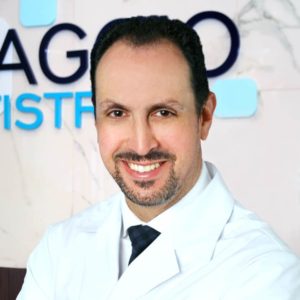 Located in Brampton, Ontario Dr. Joseph Salvaggio has been practicing general, cosmetic, and implant dentistry for over 20 years. He enjoys interacting with his patients and helping to restore their oral health for better overall health as well. Meeting new patients, interacting and educating them is one of Dr. Salvaggio's biggest joys. We encourage you to read our reviews or call us with any dental questions you have. We look forward to speaking with you and meeting you soon.