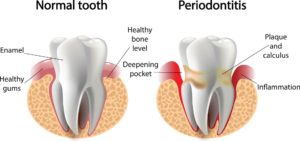 Periodontal disease is another term used when referring to periodontitis. Unlike gingivitis, a type of reversible gum disease, periodontitis is not reversible. Periodontal disease involves the permanent breakdown of gum tissue and bone in the mouth.
How Does It Start?
The first stage is the development of gum disease (gingivitis). Gingivitis occurs when plaque build-up in the mouth is not removed promptly. Plaque should be removed after every meal or at least twice a day. It also happens when plaque build-up is allowed to harden because the plaque was not correctly removed. Gingivitis causes the gums to become red, swollen, tender and bleed easily when brushing or flossing. When gum disease is left untreated, it progresses to periodontitis.
How Does It Damage Teeth & Gums?
Plaque build-up that hardens is called tartar or calculus. Hardened plaque makes it way under the gums and causes inflammation. Inflammation leads to the breakdown of the gum tissue surrounding the teeth, as well as the bone that holds the teeth in place. Once the bone and gum tissue is damaged, it is permanently lost. The only way to restore gum and bone tissue is through gum grafting and bone grafting procedures.
Prevention Of Periodontitis
Prevention begins with ensuring that gum disease does not occur. Regular oral care that involves brushing and flossing is the first defense against gum disease. While routine oral care plays a significant role in your oral health, it is not possible to remove all traces of plaque build-up in the mouth. Brushing and flossing remove soft plaque build-up, but cannot remove hardened plaque. Regular dental cleanings by a dental professional are still necessary to remove hardened plaque deposits that you cannot remove with brushing and flossing.
If you notice that your gums bleed easily when brushing or flossing, see your dentist. There is a strong possibility that gum disease is present, and it should be treated before it advances to periodontal disease. Contact us to schedule your visit.
About Dr. Joseph Salvaggio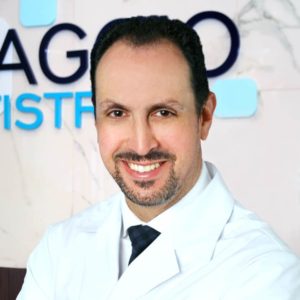 Located in Brampton, Ontario Dr. Joseph Salvaggio has been practicing general, cosmetic, and implant dentistry for over 20 years. He enjoys interacting with his patients and helping to restore their oral health for better overall health as well. Meeting new patients, interacting and educating them is one of Dr. Salvaggio's biggest joys. We encourage you to read our reviews or call us with any dental questions you have. We look forward to speaking with you and meeting you soon.