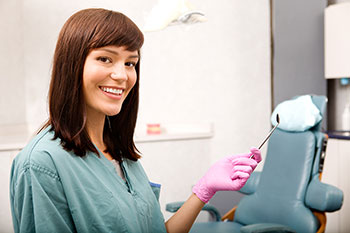 During routine dental visits, your dentist and dental hygienist will check your teeth, gums and overall mouth for health. Your teeth will be thoroughly cleaned and polished, removing plaque, tartar and staining. Certain tools will be used to clean above and below the gum line. Your routine dental visit will be recommended every 3-6 months, depending on the current health of your teeth and your dental needs. If you miss your dental hygiene appointment, you place yourself at risk of several different dental conditions.
Risk of Cavities
During your routine dental hygiene appointment, the health of your teeth will be assessed. If a cavity is forming, it can be caught in its early stages before it gets larger and can spread to other teeth. If you miss your dental hygiene appointments, you run the risk of developing cavities that go undiagnosed and can even turn into infections.
Heavy Staining
Staining can accumulate on tooth surfaces from the foods you eat and drink and from smoking and some supplements/medications. If dental hygiene appointments are missed, staining can accumulate and become heavy when not regularly cleaned off.
Heavy Plaque/Tartar
Certain types of bacteria are natural in the mouth, but other types of bacteria contribute to the build-up of plaque and tartar on the tooth surfaces, such as bacteria from sugary foods. Plaque and tartar contribute to gum disease and cavities.
Leads to Gum Disease
Plaque and tartar accumulation on the teeth directly causes gum disease. Gum disease is an umbrella term for any inflammatory conditions occurring with the oral soft tissues. Conditions such as gingivitis (inflammation of the gums) and periodontitis (inflammation of the supporting structures of the teeth.) The longer the gums are exposed to bacteria, the further the gum disease will progress, beginning with puffy gums and can lead as far as loose teeth.
It is essential to make sure you don't miss your routine dental hygiene appointments to maintain the health of your teeth, gums and mouth. If you have any questions about what happens during a regular dental hygiene appointment, we encourage you to contact us today to schedule an appointment.