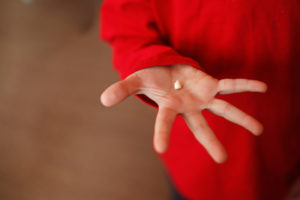 Having congenitally missing teeth is also called hypodontia. Hypodontia is a condition where at least one tooth is naturally missing in the mouth. Estimates show that around 20% of people are missing one or more of their wisdom teeth. Approximately 5% of individuals lack one or more of their premolars or teeth near the front teeth. Congenitally missing teeth is a genetic trait that is inherited. Some environmental factors may also play a role. In some cases, teeth may develop with a misshapen look if they develop.
Effects Of Missing Teeth
Aside from a potentially uneven smile or appearance, missing one or more teeth may result in an uneven bite. Other effects include damage to the jawbone and gums, poor bone growth in the affected area, reduced chewing function, difficulty with pronouncing words and other issues. An uneven bite leads to an uneven transfer or spread of chewing forces or pressure across the teeth. An uneven bite has the potential to place excess stress on certain teeth. Over time, this uneven or increased stress will lead to the issues mentioned above such as bone loss or bone damage.
Treating Congenitally Missing Teeth
Treatment of missing teeth relies on a combination of tooth replacement and orthodontic treatment. Often, teeth that are near the space left by the missing tooth will drift or move into the area. As a result, orthodontic treatment is usually required to create space in the mouth to accommodate the new tooth. In a few cases, orthodontic treatment may be enough to address the spacing issues.
When adequate space is created in the mouth, the next step is to choose a tooth replacement option. Tooth replacement options include dental implants, dental bridges and partial dentures. Most dentists will advise patients to get a dental implant as a first choice when replacing a missing tooth. Dental implants are considered the best tooth replacement option due to their advantages over dental bridges and partial dentures.
If you have missing teeth due to genetics, periodontal issues or injury, it is essential to fill the gap early. If a gap is left untreated, drifting of teeth and an uneven bite may occur. Talk to your dental professional about treatment options to fit your needs and budget.
About Dr. Joseph Salvaggio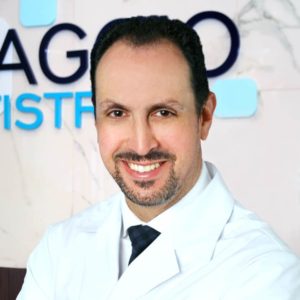 Located in Brampton, Ontario Dr. Joseph Salvaggio has been practicing general, cosmetic, and implant dentistry for over 20 years. He enjoys interacting with his patients and helping to restore their oral health for better overall health as well. Meeting new patients, interacting and educating them is one of Dr. Salvaggio's biggest joys. We encourage you to read our reviews or call us with any dental questions you have. We look forward to speaking with you and meeting you soon.