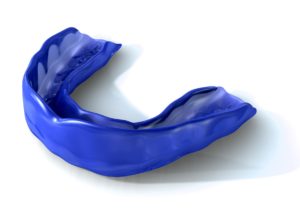 A night guard made of acrylic and is removable.  It is used to prevent the surfaces of your teeth from grinding together and chipping or fracturing.  It is used to treat bruxism, which is the habitual grinding of the teeth, which can be done either voluntarily or involuntary.  Most grinding usually occurs at night when you are sleeping.
How do you know if you need a night guard?
If you always wake up with a headache, a sore jaw, or tooth pain, you may be suffering from bruxism.  Bruxism affects around 10 to 15 percent of adults.  There are different ways to reduce the effects of bruxism but the most common way is by using a night guard.
Where can you get a night guard?
Night guards can be custom made by your dentist, or they can be bought as a ready-made appliance.  The pre-moulded night guards come in standard sizes, so they are not usually an exact fit.  There are also night guards that can be boiled to soften them, before biting into them to get a more customized fit.  The best option, however, is a custom-made night guard which is usually made at your dentist's office or in a dental laboratory.  Custom made night guards are more effective due to their precise fit, made for your bite.
Alternate treatment for teeth grinding.
In addition to a night guard, other treatment options can help.
Straightening Your Teeth: When teeth are out of alignment, this can contribute to teeth grinding. Straightening your teeth can be done through the use of traditional braces or non-traditional options such as Invisalign.
Stress Management: Anxiety can also be a cause of grinding your teeth. Practicing methods of relaxation so you can relax can help to reduce or prevent teeth grinding.
Dietary or Medicinal Changes: Avoiding or reducing stimulants like caffeine can help with teeth grinding. Antidepressant medication may also play a factor in teeth grinding, so let your dentist know of any medications you take.
If you think you would benefit from a night guard or would like to be assessed, contact us now.
About Dr. Joseph Salvaggio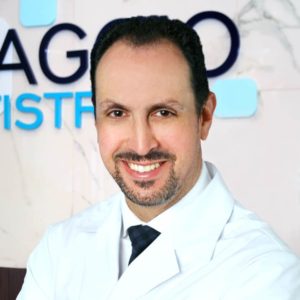 Located in Brampton, Ontario Dr. Joseph Salvaggio has been practicing general, cosmetic, and implant dentistry for over 20 years. He enjoys interacting with his patients and helping to restore their oral health for better overall health as well. Meeting new patients, interacting and educating them is one of Dr. Salvaggio's biggest joys. We encourage you to read our reviews or call us with any dental questions you have. We look forward to speaking with you and meeting you soon.