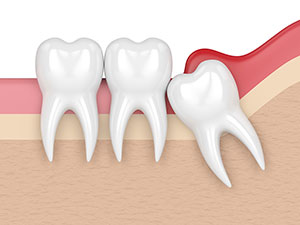 Pericoronitis is the inflammation of the tissue that is partially covering a partially erupted tooth in the mouth. Often it occurs with partially erupted wisdom teeth that don't have space to erupt into the mouth fully, but sometimes it can even happen with the eruption of the first or second molars. The gum tissue that partially covers an erupting tooth is called an operculum, and the inflammation of that tissue is called pericoronitis. Pericoronitis is diagnosed based on signs and symptoms gathered during a clinical analysis, as well as a potential x-ray taken to rule out any other causes.
Symptoms of Pericoronitis
Red, inflamed gum tissue in the area
Sore, painful gums
Difficulty opening mouth fully
Difficulty swallowing
Bad breath
Bad taste in the mouth (from pus)
Swollen lymph nodes
Low-grade fever
How to Prevent Pericoronitis
Sometimes pericoronitis is not preventable, and the tissue covering a partially erupted tooth will be prone to inflammation just because of its placement and the erupting tooth underneath. To try to prevent the tissue from becoming inflamed, clean the area thoroughly daily using a toothbrush, a sulcabrush and mouth wash. Make sure to see your dentist and dental hygienist regularly for routine cleanings and check-ups to maintain the health of the area and make necessary referrals if an operculum is forming. The best form of prevention of pericoronitis is the extraction of the wisdom teeth that are causing the problem.
Treatment for Pericoronitis
Pericoronitis may be diagnosed and treated by a general dentist if it is mild, and no surgical treatment is recommended. The area can be cleaned out, antibiotics and antibacterial mouthwash are given, and even the operculum removed by laser or scalpel to prevent further issues. If the infection is more severe, a referral to either a gum specialist (periodontist) or oral surgeon may be made for further treatment, such as removing the tissues and even the wisdom tooth underneath.
If you believe you may have an operculum or pericoronitis, or have any questions about it, we encourage you to contact us to schedule an appointment.