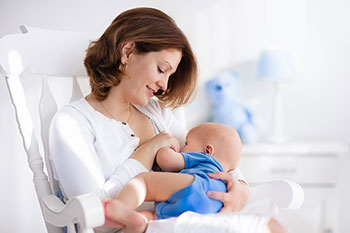 Every baby will require nursing or formula feeding with a bottle during the first years. Whether nursing or formula feeding, there are potential oral health implications for your baby if adequate oral care is not maintained. Your baby will get their first teeth around the age of five to ten months. Be on the lookout for teething symptoms and bumps in the gums, usually lower front. Your baby will continue teething until around the age of 2 and a half years old, when a complete set of 20 teeth should have erupted. If not cared for, breast milk and formula can cause cavities or dental decay on teeth.
Effect of Milk/Formula on Baby Teeth
Formula, breast milk, and cow's milk all contain sugars that can lead to cavities. Whether receiving milk from a nipple or formula from a bottle, the liquid passes through the mouth, exposing the teeth to sugars. In particular, the upper front teeth are the most susceptible to cavities, often called "baby bottle caries." Be on the lookout for this. It will appear first as white spots at the gum line or between teeth and eventually present as dark or stained areas and even chipped spots. While the most common spot for baby bottle caries is on the upper front teeth, this condition can affect any teeth in your baby's mouth.
Prevention of Baby Bottle Caries 
As soon as the first tooth erupts in your baby's mouth, use an infant toothbrush. Teeth should be brushed twice daily, the same recommendation as for a child or adult. Just use water on the toothbrush for the first year, where you can transition into fluoride-free toothpaste. At the age of 3, you can use a tiny amount of fluoride toothpaste to help prevent cavities. Try brushing your baby's teeth after feeding and always before bed. Be sure not to put your baby to bed with a bottle and not to fall asleep with a bottle in their mouth. 
Treatment of Baby Bottle Caries 
As stated above, be on the lookout for cavities forming on your baby's teeth. Treatment will largely depend on the severity of the decay. Treatment options may include topical fluoride applied to teeth during your dental visit. It is vital to bring your child for regular dental check-ups around the age of 2 and a half, where hopefully, cavities will be diagnosed in their earlier stages if they are forming. 
Please get in touch with us to book an appointment today if you have any questions about the effects of nursing or formula feeding on your child's dental health.