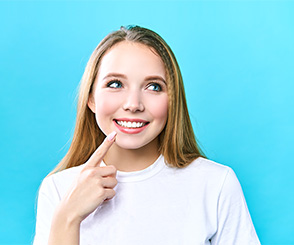 Gone are the days when teeth yellowing and staining were hindrances to confidence levels. Teeth discoloration is a natural and common occurrence with aging. Teeth usually tend to darken with age. Many other factors contribute to the condition, including frequent intake of caffeinated beverages, soft drinks, and wine. Smoking can also lead to teeth staining.
But luckily, this discoloration can be remedied through Zoom teeth whitening, which is a simple procedure done in-office. It is a widely used cosmetic procedure that can help you get a bright, stain-free, and esthetically pleasing smile.
What Is Zoom Teeth Whitening?
Zoom teeth whitening is an efficient in-office treatment that uses a teeth whitening gel to remove the surface stains leaving the teeth noticeably whiter. The procedure uses hydrogen peroxide as a bleaching agent. It is activated by a Zoom Power LED light to break down the complex molecules in tooth enamel and dentine, which are responsible for staining. The zoom whitening gel also contains amorphous calcium phosphate, which helps restore and strengthen the tooth structure.
What Should You Expect With Zoom Teeth Whitening?
Like any other cosmetic dental procedure, zoom teeth whitening also requires a prior evaluation to ensure that the gums and teeth are healthy. Your doctor will also note the presence of any existing dental fillings or dental work, such as crowns or veneers. The initial tooth shade is determined using a shade card. Since dental work does not respond to the bleaching treatment, they might need to be replaced if they do not match the final shade of the remaining teeth. If you are scheduled to get a filling or crown, it is advisable to get it before the whitening treatment. Your dentist will also recommend scaling and polishing your teeth to get rid of the plaque and calculus deposits.
Zoom Teeth Whitening Procedure
It is natural to be apprehensive before getting any cosmetic treatment done. Knowing about the procedure beforehand reduces the associated anxiety. Zoom teeth whitening is a low-risk procedure and whitens your teeth in almost 30 to 45 minutes without causing any damage to the teeth.
After the initial preparation, a retractor is placed to keep the cheeks and lips away to avoid sensitivity and burns. The gums are covered with a protective barrier. The dental professional will then carefully apply the Zoom whitening gel to the teeth surfaces. A high-intensity zoom light is used to activate it. Each session will last for 15 minutes. Normally 2 to 3 sessions of 15 minutes each are required depending upon the extent of tooth discoloration and staining.
In case of excessive staining, the doctor may prescribe you an at-home Zoom whitening treatment that uses custom-fitting trays and whitening paste. The trays are to be used for a specific amount of time. The at-home whitening paste contains less hydrogen peroxide and hence requires more time to achieve the desired results. But usually, the in-office whitening treatment is enough to produce satisfactory results.
At the end of the treatment, your doctor will use a shade guide to compare the final and initial tooth shades to determine the improvement. A fluoride-containing gel or varnish is applied to help with the transient post-treatment sensitivity.
Post-treatment care
To help maintain your teeth whitening results, it is essential to maintain oral hygiene. Make sure that you brush and floss your teeth regularly. The aftercare is relatively easy, and slight initial sensitivity is normal and temporary. This sensitivity is caused by removing the topmost layer of tooth enamel with hydrogen peroxide during the process. The layer might take a few days to reform.
Your dentist may recommend avoiding stain-causing foods and drinks for 24 to 48 hours after the procedure since the teeth are prone to staining immediately after treatment. Resuming smoking and drinking is also discouraged for a few days after treatment. Comprehensive post-treatment instructions are given to maintain the ideal smile.
Limitations Of Zoom Teeth Whitening
If you are pregnant, Zoom teeth whitening is not recommended because of oral changes caused by pregnancy hormones. It is preferable to delay the cosmetic treatment in this case. But it is entirely safe if you are nursing since the chemical agent used in whitening gels does not affect breast milk in any way.
Zoom teeth whitening is also not recommended if you are less than 13 years of age. It is because dentin is thinner in children and can be damaged by the bleaching agents used in in-office procedures.
People with sensitivity and allergies to peroxide are also not suitable candidates for treatment. The treatment cannot be carried out in the presence of an active periodontal disease which causes gum recession and bone loss. 
The Benefits
With the increasing popularity of cosmetic dentistry, the masses are more aware of the impact of a pleasant smile in boosting one's confidence.
Besides the obvious benefits of getting a brighter smile, Zoom teeth whitening procedure is also cost-effective and less time-consuming. 
It has minimal side effects and does not compromise the tooth's resilience and structure.
Almost anybody with healthy teeth and gums can benefit from the treatment. So if you want to stand out from the crowd and project your confidence and competence through your smile, Zoom teeth whitening is the most long-lasting, efficient, and affordable solution for all your discoloration issues. Contact us to schedule your visit or consultation today.