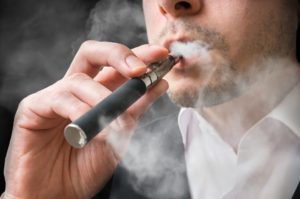 E-cigarettes or electronic cigarettes are also referred to as electronic nicotine delivery systems. They are battery powered devices that deliver nicotine and other chemicals in vapor format as opposed to smoke. The look of these devices can range from resembling a traditional cigarette to other items such as pipes, USB drives and more. E-cigarettes are considered to be safer than traditional cigarettes, but there is little knowledge about the long-term risks. As a result, growth of the use of electronic cigarettes keeps growing.
Harmful Effects
For a long time, it was believed that chemicals found in cigarette smoke were the main cause of negative health effects. However, a growing amount of research data suggests differently. A study from the University of Rochester shows that when vapors from an e-cigarette are burned, cells release inflammatory proteins. The recently released proteins aggravate stress in the cells and results in damage to the cells. Long-term or frequent damage can lead to the development of various oral diseases. It was also found that flavourings found in e-cigarettes also contribute to damaging cells in the mouth.
The mouth's gingival epithelium acts as the body's first line of expense. Another study performed by Université Laval showed that the amount of dying cells rose from 2% to 18%, 40% and 53% after exposure to 1, 2 and 3 days of vapor produced by e-cigarette, respectively. Continued damage to the gum tissue increases the risk of inflammation, infection and gum disease. Long-term, the continued damage will increase the risk of cancer.
Dental Considerations
Because the long-term effects of e-cigarettes are not fully known, it is important to have regular dental exams. Dental exams will help to monitor your mouth for gum damage and possible bone loss. Be sure to let your dental professional know if you start using e-cigarettes or how frequently you use them.
About Dr. Joseph Salvaggio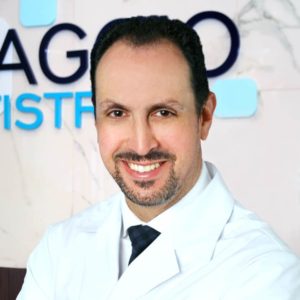 Located in Brampton, Ontario Dr. Joseph Salvaggio has been practicing general, cosmetic, and implant dentistry for over 20 years. He enjoys interacting with his patients and helping to restore their oral health for better overall health as well. Meeting new patients, interacting and educating them is one of Dr. Salvaggio's biggest joys. We encourage you to read our reviews or call us with any dental questions you have. We look forward to speaking with you and meeting you soon.