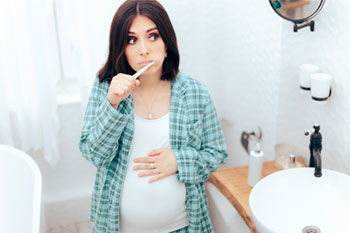 Most people have experienced tender, red, bleeding gums at some point in life, maybe even minor bleeding while brushing or flossing. This condition is called gingivitis or gum disease, and it's one of the most common oral conditions experienced by people throughout the world. 
Gingivitis is an inflammation of the gum tissue surrounding the teeth. It may be localized or generalized. Multiple factors influence your susceptibility to gingivitis. One of those factors is the hormonal changes associated with pregnancy and nursing. Pregnancy gingivitis is due to an increased response from the body to bacteria sitting on the teeth and gums.
In particular, pregnancy gingivitis is caused by a rise in the hormone progesterone. There is an increased blood flow to the gums, causing bleeding, redness, puffiness and sensitivity. The changes to hormones also make it easier for certain bacteria to accumulate in the mouth, further causing gingivitis. Pregnancy gingivitis is most common during the second trimester but can occur anywhere from months 2-9 of pregnancy.