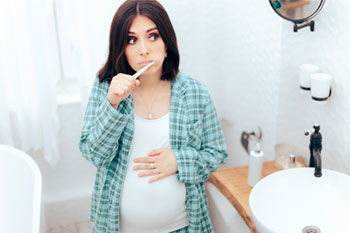 Most people have experienced tender, red, bleeding gums at some point in life, maybe even minor bleeding while brushing or flossing. This condition is called gingivitis or gum disease, and it's one of the most common oral conditions experienced by people throughout the world. 
Gingivitis is an inflammation of the gum tissue surrounding the teeth. It may be localized or generalized. Multiple factors influence your susceptibility to gingivitis. One of those factors is the hormonal changes associated with pregnancy and nursing. Pregnancy gingivitis is due to an increased response from the body to bacteria sitting on the teeth and gums.
In particular, pregnancy gingivitis is caused by a rise in the hormone progesterone. There is an increased blood flow to the gums, causing bleeding, redness, puffiness and sensitivity. The changes to hormones also make it easier for certain bacteria to accumulate in the mouth, further causing gingivitis. Pregnancy gingivitis is most common during the second trimester but can occur anywhere from months 2-9 of pregnancy. 
Signs of Pregnancy Gingivitis 
You are likely to experience red, sore, puffy gums. Less frequently, you may also notice a bump of gum tissue called a "tumour." They usually show up on the gum tissue between teeth, are localized, and go away on their own after birth. Between 60-70% of women experience pregnancy gingivitis. It is essential to contact your dentist if you notice any signs or symptoms of pregnancy gingivitis.  
How to Manage Pregnancy Gingivitis 
The most important thing you can do to prevent and reduce signs and symptoms of pregnancy gingivitis is to maintain excellent oral hygiene habits throughout the pregnancy. This means brushing 2-3 times a day, flossing 1-2 times a day, using a plaque-controlling mouthwash, and always brushing and flossing before bed.
Make sure to wait 30 minutes after a bout of morning sickness before brushing. Brushing your teeth after vomiting exposes the teeth to more acids and causes erosion. Instead, rinse your mouth with water. You must regularly see your dentist and dental hygienist throughout pregnancy for cleanings and check-ups. Your dental hygienist may even recommend that you come in more frequently, every 3-4 months, during your pregnancy if there are signs of pregnancy gingivitis. 
Without managing pregnancy gingivitis, it could become more severe and turn into periodontal disease, which is irreversible. It is essential to take preventative measures throughout your pregnancy. If you have any questions about pregnancy gingivitis or believe you may have it, please contact us today to book an appointment.